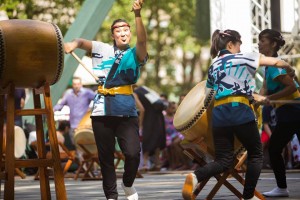 Join us this weekend for Obon Festivals!
Saturday, 19 July 2014 for Seabrook Obon Festival in Seabrook, NJ!
Sunday, 20 July 2014 for New York Obon Festival in Bryant Park!
~ See the revised schedule below ~
Once again, the Annual Japanese Obon Festival in New York is on for this Sunday, 20 July 2014, featuring Japanese folk dances, music and crafts, etc. in Bryant Park!
The Japanese folk dancing 'Bon Odori' and live taiko 'Japanese drumming' will kick off an amazing festival from 12:45 pm. Come join the numerous activities for children and adults. Learn Origami along with the kids and join us in Obon dancing!
Admission: Free
New York Buddhist Church Obon Festival
20 Jul 2014
Bryant Park, West 40th Street, New York, NY
Obon Festival Schedule *new*
12:45 pm Hoh Daiko opening performance
1:00 pm Opening remarks, National Anthem & Welcome address
1:20 pm Obon Dance Part 1
2:10 pm Messages
2:30 pm Tachibana Dance Group
2:45 pm Obon Dance Part II
3:30 pm – 4:00 pm Soh Daiko performance
4:15 pm Obon Dance Part III
4:50 pm Closing
Sponsored By
New York Buddhist Church